The Cancer Foundation of Saskatchewan has launched a provincial campaign to replace the breast screening bus that performs more than 8,000 breast screening mammograms every year throughout rural and remote Saskatchewan. Our goal is to raise $2 million so this life-saving service remains available for women in our province.
Screening Program for Breast Cancer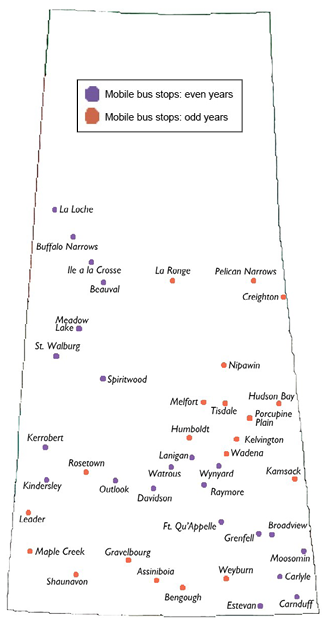 In 1990, the Saskatchewan Cancer Agency launched the Screening Program for Breast Cancer (Screening Program).
Saskatchewan is geographically dispersed, making access to cancer treatment and screening programs much more difficult. Access to services can be challenging for many in the rural areas of our province.
The good news is that the Agency brings the exam to you!
The breast screening bus visits approximately 40 rural and remote communities in Saskatchewan on an odd/even year cycle.
Of the breast cancer cases detected through the Screening Program, 75 per cent were diagnosed at an early stage* allowing for more treatment options, greater survival rates and better outcomes for breast cancer patients.
The goal of the Screening Program is to ensure that everyone has equitable access to screening – we need your help.
* www.saskcancer.ca
Donate Now
Breast Screening Bus
Purchased in 2002, the Saskatchewan Cancer Agency's current breast screening bus is at the end of it's useful life after delivering more than 250,000 mammograms to women across this province.
Both the 20-year old vehicle and the digital mammography machine need to be replaced and upgraded.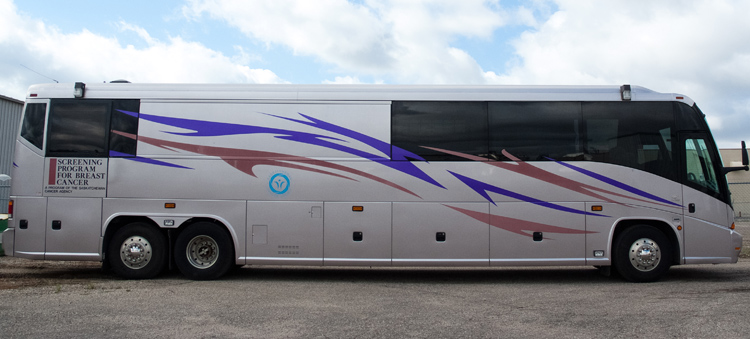 There are mechanical and operating issues with the bus. Some of these include:
Unanticipated bus breakdowns that require time off the road, rescheduling patients and lost appointments. This is happening more frequently, for longer periods of time;
Air ride system isn't working properly; requires the bus to be parked on wood blocks to keep the bus level when parked;
Floors are not heated and space heaters are required to keep staff and client's feet warm in the winter;
Drafts from windows and front door; and leaks occur from windows and AC units when it rains;
Cupboard doors are kept shut with duct tape during transport; and
Cloth seats in the waiting room are worn and unable to be sanitized.
With your help, we need to raise $2 million to replace and fully equip a new breast screening bus.
Together, we can ensure that women in Saskatchewan have access to breast screening mammography.
Donate Now
Sandra Donnelly, shown here with her husband, Garry, is just one of the women who had a life-saving mammogram on the breast screening bus.


Read her story