James' Story
Cancer is a thief. It can steal so much from the patient and their families: time and energy, stability and security, comfort and quality of life.
Cancer treatment can also be challenging. When most people think of the side effects of life-saving cancer treatment, they think of hair loss or nausea. For 30-year-old James Rathgeber of Wolseley, treatment for his cancer stole his ability to hear the voices of his three small children. Donors, just like you, gave it back.
Throughout 2019, the married father of three was experiencing back pain. Having already undergone treatment for testicular cancer, he was devastated when doctors discovered that a mass had formed around one of James' kidneys. The cancer had returned.
James required three stem cell transplants with chemotherapy between each procedure. Nerve damage can be a side effect of chemotherapy and, for James, it damaged his hearing. He could no longer make out certain tones, including his three young children's voices.
James would need hearing aids at a high cost of $4,000. Health insurance covered less than half. Finding thousands of dollars for hearing aids seemed impossible. James was on disability, unable to work because of his treatments.
Because of generous donors to the Patient Care and Comfort Fund, the Cancer Foundation of Saskatchewan was able to provide James and his family with $1,000 to help cover the expense.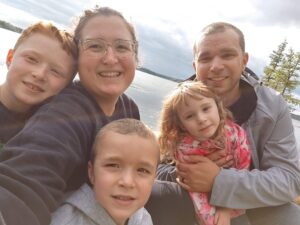 "That thousand dollars, it doesn't seem like a lot, but it's huge when you're already on a tight budget," says James, whose health is improving every day. There are some lingering side effects of his treatment, but as he puts it, "I am here. I am here for my family. That is what I am thankful for every day. I'm here to play with my kids."
The Cancer Foundation of Saskatchewan is the only charity dedicated to enhancing cancer care here at home. Your gifts fuel hope for the 6,000 people of this province who will start their cancer journeys this year; your friends, family, someone you love.
Unfortunately, not everyone has the financial means to cope with a cancer diagnosis. The Patient Care and Comfort Fund offers hope by helping with unplanned expenses. Things like medical supplies, dental exams and repairs, wigs and head coverings, nutritional support, fuel and travel expenses, and so much more.
You can ease the burden of cancer for patients just like James and his family. Please support the Patient Care and Comfort Fund and make your donation today.
Donate Now
Learn more about the Patient Care & Comfort Fund and how your gift helps cancer patients in Saskatchewan!
Learn More