2022 AFP National Philanthropy Day Awards
Each year, in November, the Association of Fundraising Professionals (AFP) celebrates National Philanthropy Day. This day is dedicated to recognizing and celebrating those in our communities who embody philanthropy – the charitable giving of time, money, knowledge or skill.
The Southern Saskatchewan and Saskatoon chapters of AFP each held an awards luncheon to honour individuals, businesses and community groups who are making a positive impact on the people of our province.
The following donors to the Cancer Foundation of Saskatchewan were honoured at the awards luncheon and received awards. Continue reading to learn more about the ways they are making a difference in the lives of those affected with cancer in Saskatchewan.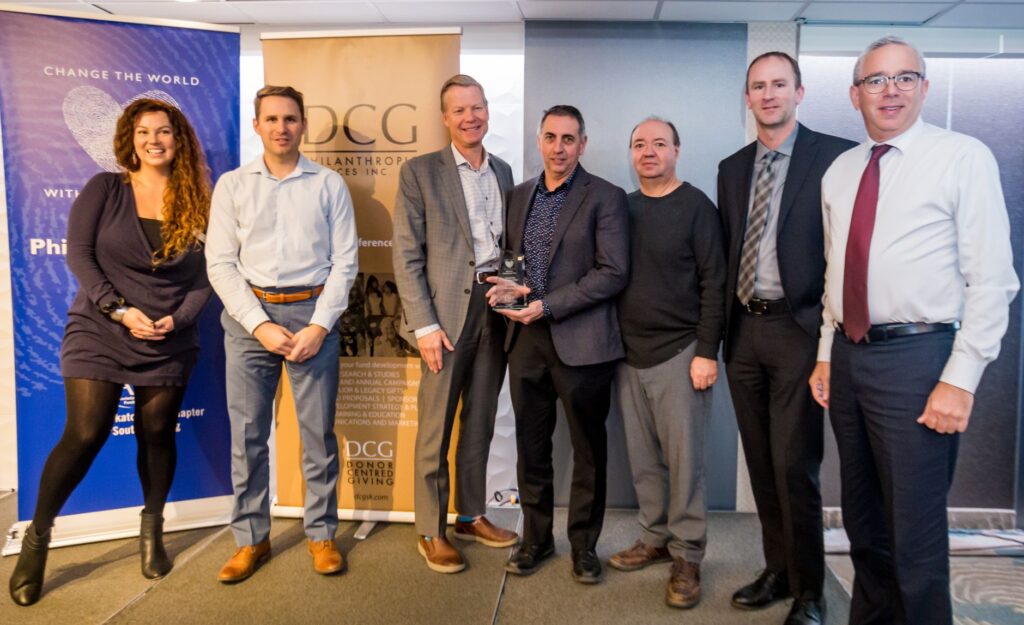 IG Wealth Management – Saskatchewan South
Outstanding Community Group, Regina
For 16 years, IG Wealth Management has cared about cancer patients in southern Saskatchewan. They created the IG Day of Caring that beautifies the outdoors of the Regina Cancer Patient Lodge operated by the Saskatchewan Cancer Agency. The Lodge provides cancer patients living in rural areas a home away from home while taking treatments across the street at the Allan Blair Cancer Centre.
IG staff volunteers partner with the Cancer Foundation of Saskatchewan to roll up their sleeves, wash windows, paint fresh parking lines, rake, mow, sweep, and plant flowers. In addition, they have donated over $80,000 for the Lodge.
In southern Saskatchewan IG Wealth Management continues their support through the YWCA, STARS, United Way and the Alzheimer's Society.
Cameco

Honoured Supporter, Saskatoon

Since 2012, Cameco has supported cancer patients in Saskatchewan through the Saskatchewan Cancer Agency and now the Cancer Foundation of Saskatchewan.

Most known for the Cameco Riders Touchdown for Dreams, they have delivered over 70 dreams to women with cancer and their families. Also, they have quietly provided a northern health bus, funding for upgrades to the chemotherapy unit at the Saskatoon Cancer Centre, support for the 4D CT Simulator campaign, breast cancer research, and education for youth.

Wild Rose 4-H Beef Club

Youth in Philanthropy Award, Saskatoon

In 2021, the Wild Rose 4-H Beef Club cared for and raised a steer which they then auctioned off for charity at the Prince Albert Regional 4-H Beef Show and Sale.

Inspired by community members who were battling cancer, the club chose to support the purchase of a new 4D CT Simulator for the Saskatoon Cancer Centre.

Raising $49,930 for the steer, the clubs efforts inspired additional donations from their community – Prince Albert Canadian Tire and JGL Group of Companies both stepped up to match the auction amount, bringing the total raised to $150,000!
Murad & Michelle Al-Katib
2022 Outstanding Philanthropists of the Year, Regina
With their gifts of time, talent, and resources, Murad and Michelle have supported and promoted multiple causes within our community.  While they are prominent advocates of youth, women, and First Nations in driving social change and innovation; their philanthropic giving is done behind the scenes.
Michelle and Murad humbly and quietly contribute to multiple causes within our community and abroad.  When they do publicly announce a gift, it is typically only done so as leverage to raise even more funds and expand their impact.
Michelle has a passion for literacy, especially for children.  She has purchased and donated hundreds of books to Kitchener Community School where she volunteers weekly with the children.  Michelle was a donating member of the Red Cross Tiffany Circle and is involved in the Women's United Way Committee.  She has served in leadership roles at WS Hawrylak School, Regina Minor Football Club, Regina Riot, and the Canadian Red Cross Imagine No Bullying Campaign, to name a few.  She is a staunch supporter and fundraiser for the YWCA's Coldest Night of the Year.
Murad in his own right has won numerous awards around the globe for his compassionate entrepreneurialism.  Partnering with the United Nations and the International Red Cross in 2017, his business, AGT, provided more than 700 million meals for refugees in Syria, Iraq, and elsewhere.
Together, either through AGT or their personal philanthropy, Murad and Michelle have donated to Regina Thunder Scholarships, the Red Cross Gala, the Regina Food Bank, Mental Health Saskatchewan Branch, Hospitals of Regina Foundation, Hope's Home, University of Regina, University of Saskatchewan, YWCA, Saskatchewan Roughrider Football Club, and so much more.  They are one of the lead donors of Game Changers, a mental health program that supports youth in talking about mental health issues, asking for help and supporting their friends.
The Al-Katibs are a team that engages and influences our community like no other.  In 2019, in support of John Hopkins and his battle with prostate cancer, they opened their house and threw a backyard party with the Garage Band, inviting friends and business colleagues.  Stepping up with a personal donation, Murad and Michelle challenged those in attendance to follow their example.  In the end, over $1.3 million was raised for the Cancer Foundation of Saskatchewan's 4D CT Simulator Community Campaign and the new simulator was operating at the Allan Blair Cancer Centre that same year.
Michelle and Murad have touched the lives of hundreds of youth in Saskatchewan.  As leaders with the Regina Thunder they have acted as role models, encouraging the players to become part of the community.  The importance of giving back can be seen in their Thunder Acts of Kindness.
Michelle and Murad are both advocates for our province and all who live here.  Their example inspires others to be charitable.  Their door is always open, their house is always full, and the hugs are always plentiful.