Tyler's Story
A typical 20-year old, Tyler Walby was just beginning to figure out what he wanted his future to look like. He was attending the University of Regina to study kinesiology and was working part-time. A cancer diagnosis was unimaginable.
In early December 2020, Tyler noticed a lump on his neck. His friends dismissed it as a swollen lymph node and reassured him that he was likely just fighting off a cold.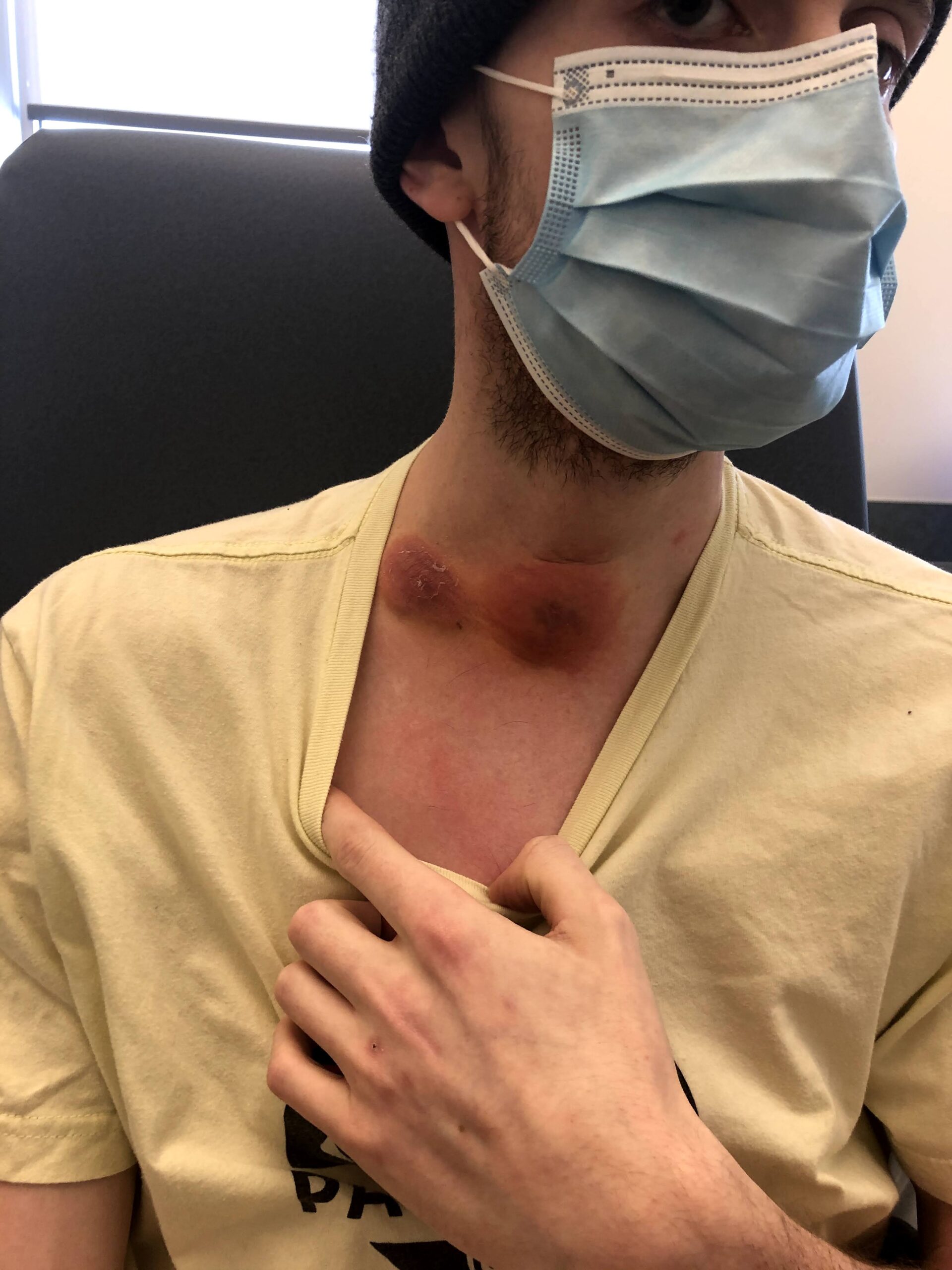 When a second lump appeared days later, it was apparent the lumps were rapidly growing and becoming alarmingly discoloured. The final straw was when Tyler began having difficulty breathing and swallowing. His mom quickly took him to see a doctor who referred him to an Ear, Nose and Throat Specialist and on New Years Eve, a biopsy of the lumps was performed.
A week later, Tyler received the results – Hodgkin's Lymphoma.
Tyler wasn't the only person impacted by his cancer diagnosis. His mother, Sandra Nixon, had been by his side the whole time and held out hope that the biopsy would have a different outcome. "I will never forget where I was when I found out,' Sandra says, "I dropped to the ground crying and Tyler had to help me up." In that moment, Sandra told herself she had to be strong and needed to be Tyler's strength and support him.
Tyler started researching Hodgkin's Lymphoma and realized, "I was more worried prior to my diagnosis. I did a lot of research and although it sucked, it seemed like a 'good' cancer to have. The odds were good."
Prior to discovering the lumps on his neck, Tyler experienced unexplained night sweats and lost 30lbs over the course of six months leading up to his diagnosis; these were also symptoms of his cancer. Tyler began chemotherapy at the Allan Blair Cancer Centre and after only two treatments, the tumors on his neck had started to shrink.
After a CT simulation, it was discovered that Tyler had nine tumors – six in his neck, two in his chest and one on his lung. His official diagnosis was Stage 2 EB Hodgkin's Lymphoma.
Because of the number of tumors and their proximity to his heart, neither surgery nor radiation were an option. Tyler needed to begin a second round of chemotherapy treatments to shrink the tumors in his chest and on his lung.
Tyler chose not to tell too many people about his cancer diagnosis, "I didn't want sympathy or to be treated differently." He says, "It was hard to see people so sad and not be able to do anything about it."
The challenge of undergoing cancer treatments during a global pandemic proved to be a blessing. Additional health and safety measures were already in place, and Sandra was working from home and could care for Tyler without having to take time off work.
Being in quarantine did not stop some of Tyler's family from going above and beyond to support him. His grandma and grandpa would isolate for two weeks prior to visiting, bringing over baking or his favourite foods, to ensure there was little risk to Tyler's health. There were many doorstep milkshake and smoothie deliveries and Tyler's friends would take him on physically distanced walks around the block to help keep his spirits up.
Tyler's mental health was impacted not only by the pandemic, his diagnosis and the isolation that came with both, but also by the chemotherapy drugs. The medicine that was healing his body was affecting his depression in the days after his treatments. Thankfully, he had his mom to help him through those trying times. "I was pretty close with my mom before," says Tyler, "but now we're even closer."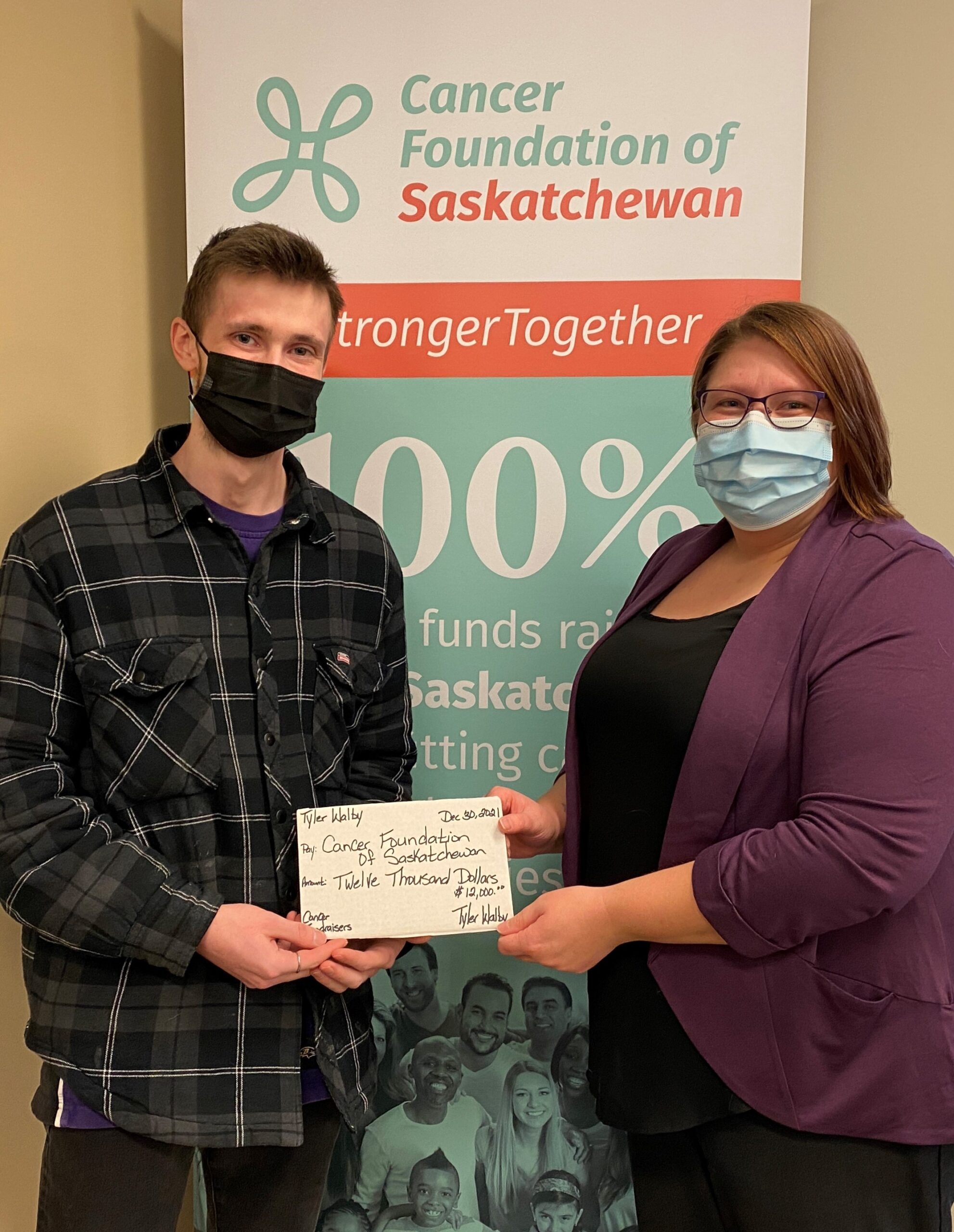 In September, Tyler's family held a surprise party where they shared the news of Tyler's cancer diagnosis and that he was in remission!
When asked if cancer had changed him, Tyler said, "I used to be incredibly shy. I am more certain about what I want and more confident." After overcoming mental health struggles, Tyler's priorities shifted, "I want to help people more. I have changed my major from kinesiology
to psychology."
Tyler also wanted to give back as a way to show his gratitude to the nurses who took care of him, "The nurses are so busy and there wasn't a good time to really say 'Thank you'." With the help of his family, Tyler started fundraising to help purchase care and comfort
items for patients at the Allan Blair Cancer Centre.
Together, with the help of family and friends, Tyler and Sandra raised $12,000! These funds were used to purchase a brand new power reclining chemotherapy chair that will improve the comfort of patients and help nurses to maneuver patients more easily. They also funded the purchase of a vital signs monitor which automatically uploads patient information into their electronic records.
Tyler's advice for anyone going through a cancer diagnosis: "Tell your doctors your troubles! They can help. A small change in your medication can make a difference. As cliché as it sounds; it gets better. Chemo sucks, but it works. Stay positive but it's ok to feel bad for a bit, its part of the process."
"Before I had cancer, I would never have talked about myself like this. What makes me special?" Tyler recalls. However, he agreed to share his story in hopes of inspiring other cancer patients through their journey and to encourage people to support the life-saving work of the Saskatchewan Cancer Agency!
Want to share your cancer journey story? Whether you're a patient, family member, health care provider, donor or volunteer, we'd be honoured to hear from you.
Share Your Story